Semiconductor Assembly
We Manufacture semiconductors
and various sensor packages at the high-security factory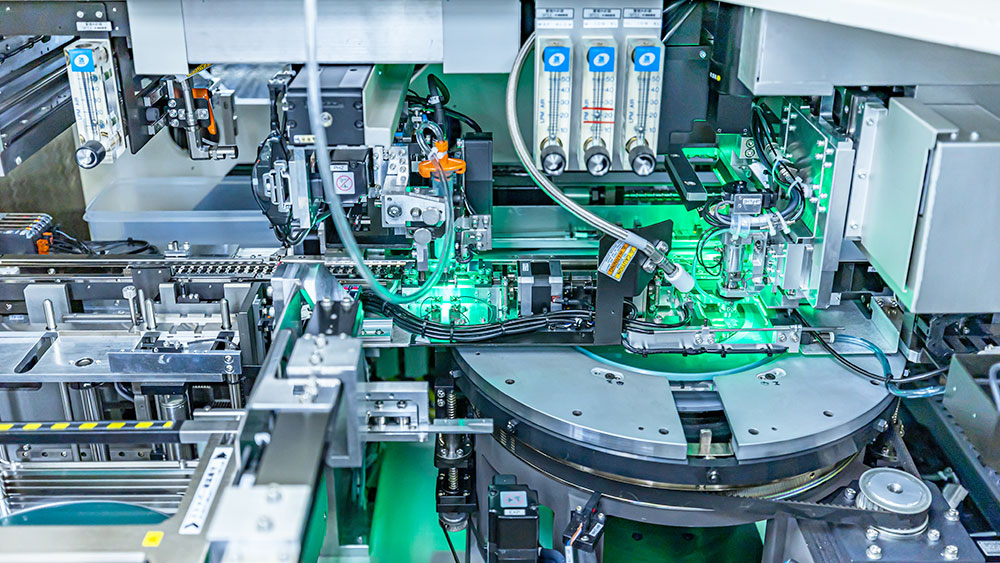 We are doing semiconductor assembly all through from wafer back-grind to packing/taping.
We provide security and satisfaction for our customers through various kinds of packages and high-security management.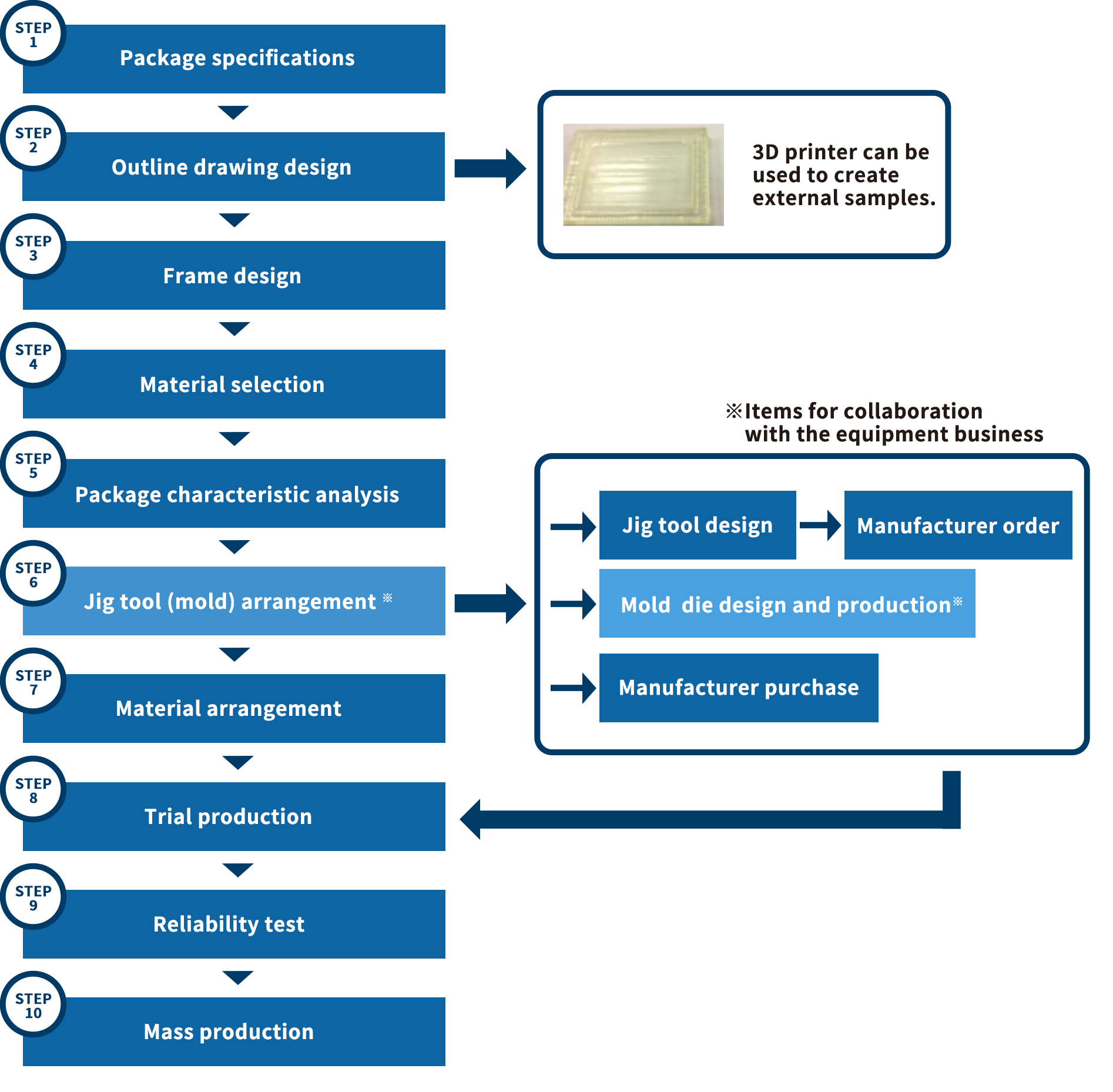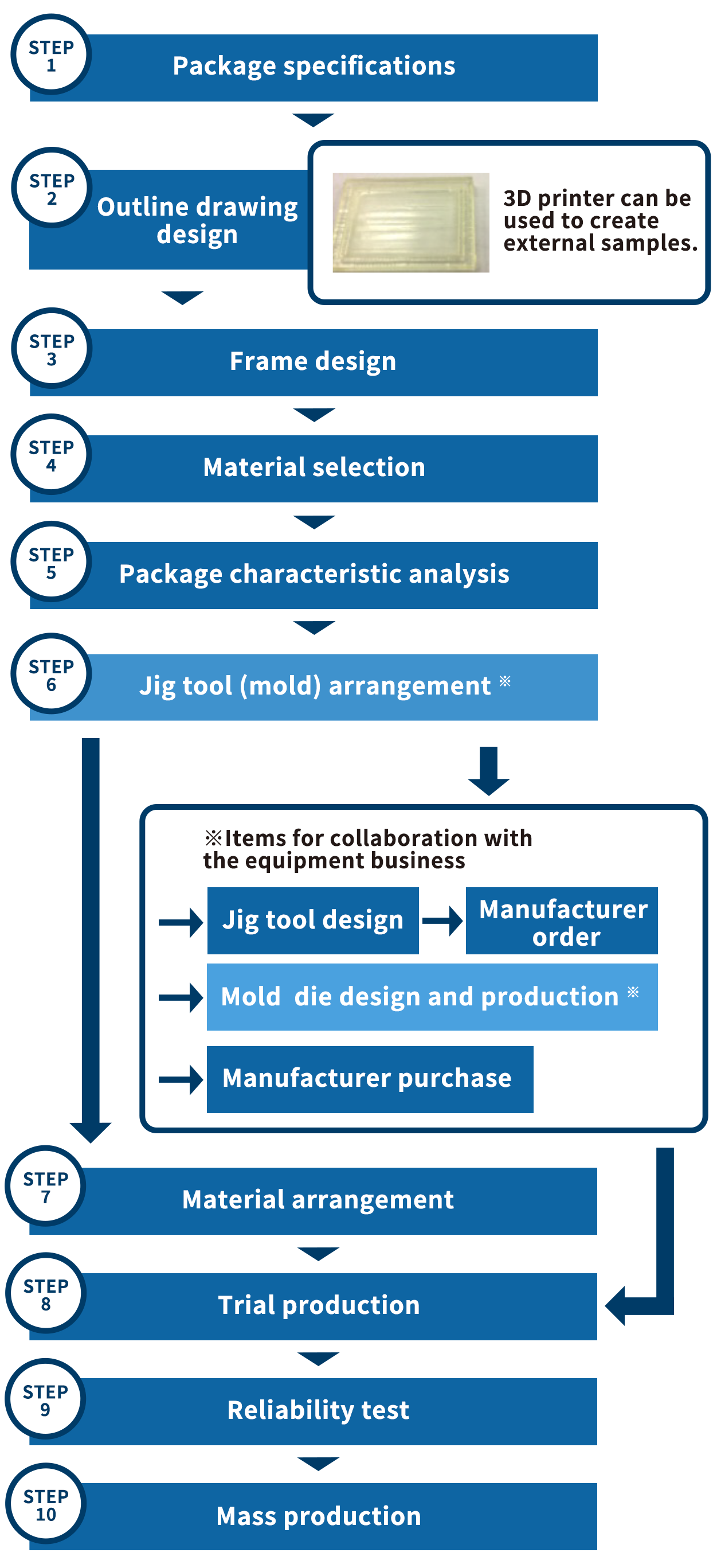 Products and Services
・Packaging and testing of various semiconductors
・Packaging, burn-in, and testing of automotive semiconductors
・Packaging and testing of high-security semiconductors in a high-security environment
・Risk dispersion by production in Vietnam and Japan
・Development of new packages
・Development of test programs
・Various simulation analysis before trial production
Package simulation analysis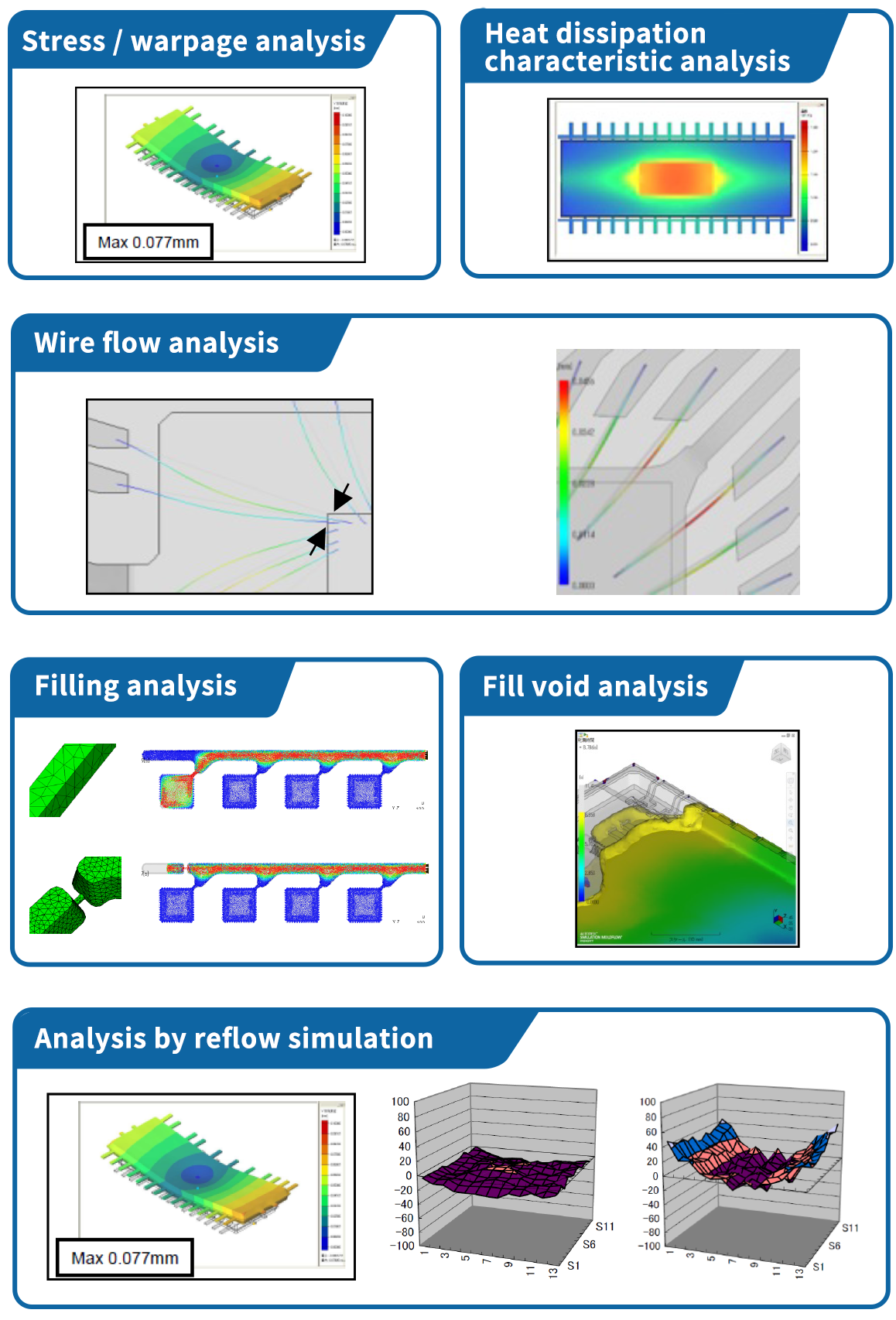 Certification
Classification
Certification
Domestic
(MTEX)
Vietnam
(MVC)
Quality
IATF16949
◯
◯
Environment
ISO14001
ー
◯
Eco-Action21
◯
ー
Package Information
We offer the packages requested by our customers from a wide range of package lineups.
We can also develop custom packages that are not included in our product lineup.
Technical Information
We provide our customers with packages and technologies realized through collaboration among our internal businesses.
Tester List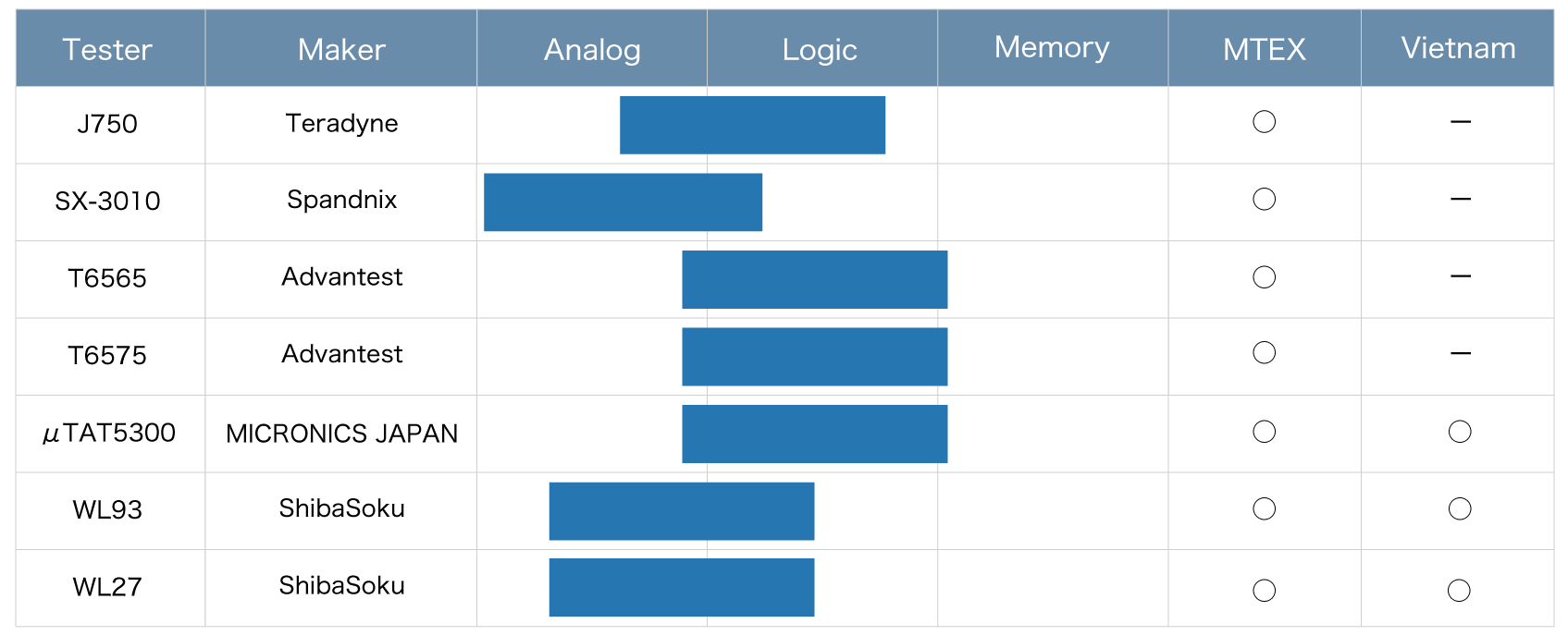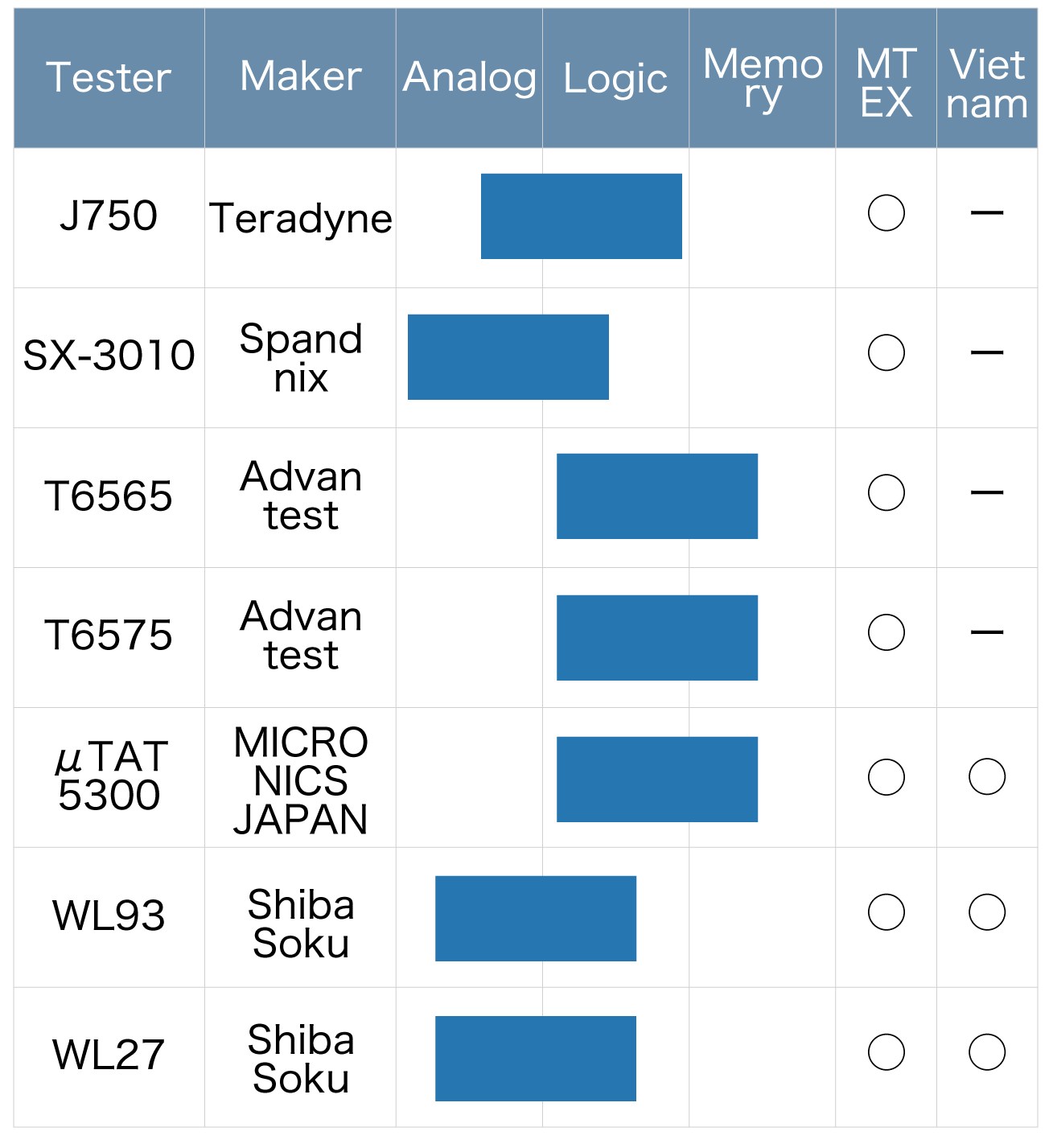 ◯:Owning base
List of Analysis Equipment
In-Process Inspection Apparatus
Analyzer
Reliability Test Apparatus
Wire-bonding pull tester
Scanning acoustic tomograph
Thermohygrostat
X-ray inspection apparatus
Scanning electron microscope
Thermostatic chamber
Multi solderability tester
Specimen polisher
Hot air reflow soldering equipment
Solder bath
Flow analysis software
Gas-tank thermal shock tester
X-ray fluorescence thickness meter
Spectrum analyzer
Unsaturated pressure cooker
Surface roughness tester
(laser-type,contact-type)
Oscilloscope / Curve tracer
ー
Tabletop load measuring instrument
Memory checker
ー
Measuring microscope
High precision digital multimeter
ー
Toolmaker's microscope
High precision frequency counter
ー
Dew point meter
ー
ー
Static electricity measuring instrument
ー
ー
Surface resistance measuring instrument
ー
ー

Focusing on ultra-precision processing technology, we are developing four businesses: semiconductor assembly business, plastic molding business, equipment business, and automotive parts business. Our strength is that we can develop new products that combine each other's technologies and build highly efficient production lines using our unique technologies while developing our business independently.